WONDER WOMAN TIMELINE
(Post-Infinite Crisis/ NEW EARTH)
1200 B.C.
- The Amazons of Themyscira were created by five Olympian goddesses who reincarnated the souls of women who died before their time from the womb of the Earth goddess, Gaea. This new race of women called Amazons were chosen by the goddesses to be teachers of equality, harmony and justice- the Ways of the Earth mother, Gaea. Under the leadership of 2 Queens, Hippolyta and her sister Antiope, the Amazons build their city-state in Greece called Themyscira.
Manipulated by the God of War- Ares and driven mad by the goddess Hera, Hercules challenges Queen Hippolyta who defeats him in hand to hand combat. Through trickery, Hercules is able to steal the "Girdle of Gaea" from Hippolyta. The magic girdle is what rendered Hippolyta and the Amazons invincible in battle. But without it, Hercules subjects them into slavery. But through the prayers of Hippolyta, they are freed by the Goddess Athena under the condition- that they must forever wear the manacles upon their wrists to remind them never to allow themselves to be deceived by evil men. The Amazons are then given a new home on an island Paradise and a new purpose- that the they make penance for their failures by forever guarding Doom's Doorway on Paradise Island and prevent the creatures from within from escaping into the world.
Hippolyte ( Ἱππολύτη )
But not all the Amazons followed Queen Hippolyta to Paradise island. Her sister, Queen Antiope's faction decided to renounce their loyalty to the Olympian gods and pursue Hercules and his men and exact their revenge. Hippolyta, whose 'Girdle of Gaea' was stolen by Hercules was given the 2nd Girdle of Gaea worn by Antiope. Hippolyta's Amazons are sunsequently granted immortality and build a brand new city on Paradise Island also called 'Themyscira." The descendants of Antiope's Amazons eventually become the violent and deadly Amazons of Bana Mighdall.
1940's
-Diana Trevor arrives on Themyscira , saves the Amazons and is regarded as an Amazon champion. Her American Flag jacket design is made an Amazonian Champion's coat of arms.
Twenty-Five Years Ago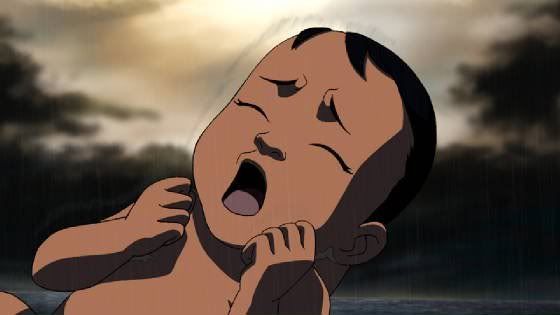 -During a Hunter's moon, Diana is formed by Hippolyta from mystic clay derived from the clay that lines the caverns beneath Themyscira. After cutting her fingers and imprinting the clay figure's forehead with her blood, it is given life when it is infused with the spirit of the last Amazon from the womb of the Earth goddess- GAEA. Sent to the clay figure by the goddesses Artemis, Athena, Aphrodite, Demeter, and Hestia. The baby is named 'Diana' after the Amazon's savior from years before and given special powers by the five goddesses as well as Hermes who bequeathed her with Great Speed and the Power of Flight. Growing up on Themyscira, Diana is nurtured by the love a thousand mothers.
Thirteen Years Ago
- When Diana reached the age of 12, the Amazon Sorceress Magala used her magic and created a mystic twin to be Diana's playmate.
- But Dark Angel who is an old enemy of Hippolyta kidnaps Donna and places her in a state of suspended animation for years before being destroyed.
-On Themyscira, Magala & Diana thought the magic that created Donna simply disspated.
A Short time Ago (Silver Age timeline)
-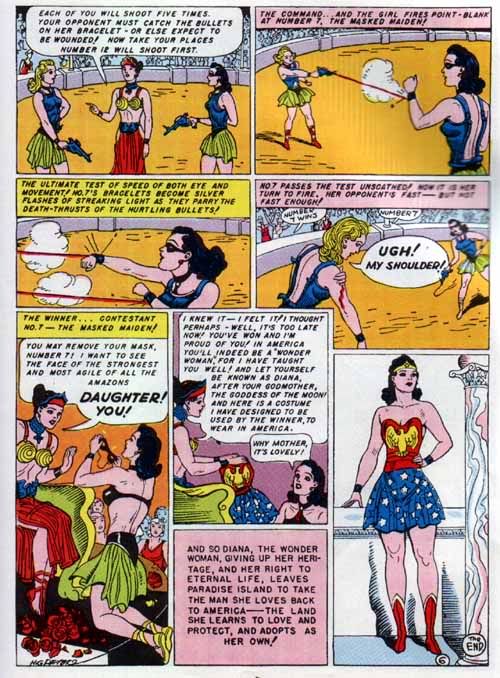 Diana wins the contest and is awarded her armor, the Silver bracelets and the Lasso of truth.
She arrives in Man's world right after Superman & Batman and is called "Wonder Woman" based on her armor's stylized eagle emblem.
Like the Amazons of Themyscira, Diana's mystic twin is reincarnated in Man's world and reborn as Donna Hinckley, daughter of a cancer-stricken teenager who gave her up for adoption.
Donna unfortunately ends up in the clutches of a baby selling ring. But the furnace in the building they stayed in exploded and caught on fire killing all except Donna. Donna is then saved from the burning building by Rhea, Titan goddess who takes her to safety on their planet on New Cronus where she is nutured and named 'Troy'.
Donna is eventually returned to Earth and brought to Themyscira where she is raised and trained by the Amazons.
There, she is adopted by Queen Hippolyta as Diana's sister (unaware of their true connection at this point).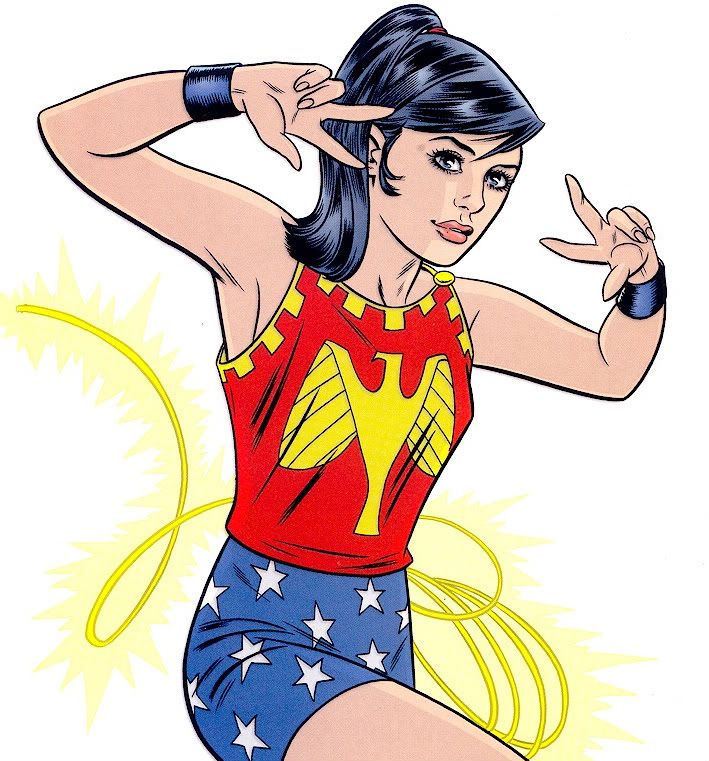 Inspired by Wonder Woman, Donna creates a heroic guise for herself as 'Wonder Girl' and travels to the outside world and forms the original Teen Titans with other young heroes. She also establishes a civilian guise for herself as Donna Troy.
Diana meets Superman & Batman for the first time and teams-up with them to fight Ra's Al Ghul and a renegade Amazon.
She subsequently helps form the Justice League of America w/ Superman, Batman & other heroes when they banded together to face the Appelaxian Aliens that attacked the Earth.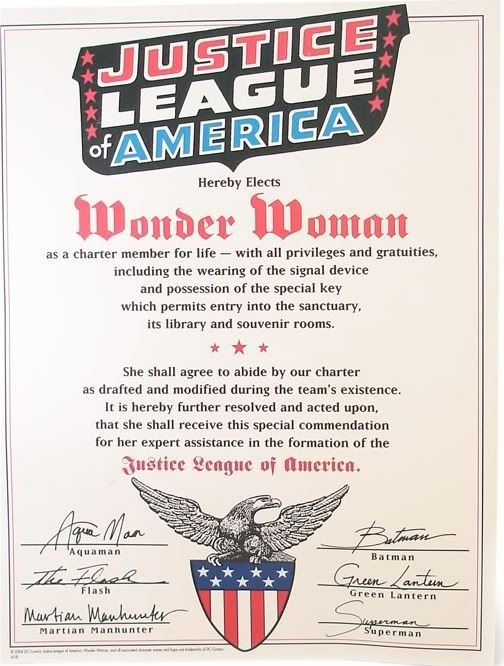 When Diana was temporarily incapacitated, transfigured into the Goddess of Truth and unable to continue as Wonder Woman, Hippolyte took over as the new Wonder Woman and became just as formidable and noble a hero as her daughter in her memberships with both the Justice League and the Justice Society.
Eventually, DIANA renounced her Godhood and resumed her role as the Original Wonder Woman.
Donna grows up and passes the mantle of "Wonder Girl" to Cassie Sandsmark, daughter of a mortal woman & the Olympian Zeus.
But Hippolyta did not completely stop operating as Wonder Woman despite Diana's return. She continued to travel Man's world and remained active with the Justice Society of America. Meanwhile Paradise Island became vulnerable when an ancient foe- Ariadne killed and possessed Magala while manipulating the increased tensions between the Themysciran and Bana Mighdall tribes.
A Civil War errupted and after Hippolyta, Diana & Donna put an end to it, the monarchy of Themyscira was abolished. A new Democracy emerged with a Parliamentary form of government with General Philippus as Chancellor. Soon after, the Amazons would again be drawn into conflict as the whole world is drawn into a war with an alien threat called Imperiex. This threat unified the two Amazon tribes. Hippolyta dies a hero's death as a Wonder Woman even as she fought along side Diana and other heroes.
Paradise Island was also destroyed when the Amazons willed the mystic island into blocking an energy tendril that threatened the earth. They did eventually win the conflict but with very large casualties. But due to the Amazons reconciliation and heroism, the Greek gods and Egyptian gods combined their powers to reinvigorate Themyscira. The Lansinarian technology was also incorporated into rebuilding and for the first time in three thousand years, the Amazons open Paradise Island to the universe where beings from all over creation can learn and exchange ideas, technology and spread peace.
But this newfound milestone would not last. A Deadly Artificial Intelligence Satellite called "Brother Eye" unleashed nanites that possessed ordinary people turning them hosts to an army of killer Androids called "Omacs". To make matters worse, beings from long lost Parallel worlds take advantage of the conflict and attempt to alter all reality by bringing back a multiverse oof Parallel worlds.
In Man's world Wonder Woman (Diana) is confronted by a former ally turned villain- Maxwell Lord a very powerful telepath. Max Lord had commandeered the Brother Eye Satellite systems as well as the Omacs and used them to try to destroy all metahumans. He eventually possessed Superman himself with his psionic powers and used him to try to kill Batman. But Diana saved Batman by battling Superman while trying to free him from Lord's control. When Diana used the lasso of truth on Lord and asked him how she can free Superman from his control...Max Lord said she'd have to kill him. With no other choice, Diana executed Maxwell Lord and was branded a murderer. But the World court found Diana NOT GUILTY of murder and it was proven that Lord's death was in self defense.
But the damage had been done and the Amazons' progress in opening Paradise Island to the world was cut short. During the Omac conflict, Wonder Woman asked the Amazons to retreat to the dimension of the gods to escape the destruction. A years later, Wonder Woman established a civilian identity to rebuild her life. Since her original mission failed, she was now free to redefine her role among humanity as Wonder Woman. With the help of Bruce (Batman) Wayne, She established the guise of Diana Prince and with Clark (Superman) Kent's suggestion- wore glasses to complete her new look.
As Agent Diana Prince, Wonder Woman works at DOMA-The Department of Metahuman Affairs with Tom Tresser, a.k.a. "Nemesis" and Sarge Steel.
After months of operating as an Agent for the Department of Metahuman Affairs, Diana Prince's cover was blown. But despite her partner Nemesis' (Tom Tresser) knowledge of this, he remained a faithful ally and friend against the likes of Circe, Captain Nazi and the monstrous creature, Genocide. During the course of these adventures, Diana relinquished her role as a champion of the Olympian Gods and decides to chart her own course and remain faithful to her own sense of justice and service to humanity as the people's champion instead.
Princess. Ambassador. Superheroine. Goddess of Truth. Diana of Themyscira has been all of them. But for the first time in her life, she now has an opportunity to discover who the woman is behind the "wonder".
=============================================================================================================================
TIMELINE OF THE DC UNIVERSE
DC Pre-New52 Timeline/Chronology
DC TIMELINE / CHRONOLOGY (PRE-NEW 52 SINGULAR UNIVERSE)
1938
Winter
The Sandman debuts
Autumn
The Crimson Avenger debuts
The Flash gains his powers
1939
Winter
Green Lantern debuts
Sept
World War II begins
Autumn
Hawkman debuts, followed by the Spectre, Phantom Lady, and Starman
1940
Many more heroes appear, including Dr. Fate and the Atom
Nov
The Justice Society of America forms
1941
Autumn
The Seven Soldiers of Victory form
Dec
The U.S. enters WW II
The All-Star Squadron is formed
1942
Feb
The Freedom Fighters form
Apr
The Young all-Stars are created
1943
Vandal Savage first fights Green Lantern (Alan Scott)
The Blackhawks save New York
Sept
Allied forces reconquer Italy
1944
June
The Allies invade German-held France
Solomon Grundy first appears
1945
Feb
The JSA confronts the Stalker and his agents
May
The war in Europe ends
Aug
The war in the Pacific ends
1947
Black Canary (Dinah Drake) debuts
The Injustice Society forms
1948
The second Injustice Society forms; Black Canary joins the JSA
Oct
The Seven Soldiers Of Victory are lost in time
1950
1951
Autumn
The JSA is forced to disband
1953
The Spectre is trapped in Jim Corrigan's body
1954
The Knight and the Squire inaugurate a new generation of heroes operating overseas
1955
J'onn J'onzz is teleported to Earth
1957
The Global Guardians are formed
1958
The Challengers of the Unknown are active
1961
The JSA emerges from retirement
1963
Bruce Wayne is born
1964
Kal-El's rocket lands on Earth
1965
The Spectre escapes his mystic imprisonment
1969
Princess Diana of Themyscira is born on Paradise Island.
1970
Amateur heroes band together as the Justice Experience
1971
Starman and Black Canary have a brief affair
Thomas and Martha Wayne are murdered
1974
Ted Grant retires from professional boxing
1977
Bruce Wayne leaves the country to begin years of travel and training
Dr. Trap begins hunting and killing members of the Justice Experience
1978
John Constantine gets a harsh introduction to the occult in the "Newcastle Incident"
1979
Keystone City is trapped in stasis
Lex Luthor meets Clark Kent in Smallville
1980
Young Clark Kent meets the Legion of Super-Heroes
1981
Slade Wilson begins operating as Deathstroke, the Terminator
1982
Alec Holland is transformed into the Swamp Thing
1983
Clark Kent finishes high school and sets out to travel the world
1984
Oliver Queen is cast away on a tropical island
1985
The Metal Men, Metamorpho, and Deadman debut
1987
Buddy Baker becomes Animal Man
1988
Niles Caulder creates the Doom Patrol
Year Zero
Sept
Superman debuts [age 23]
Year One
Jan
Green Lantern debuts [age ~29?]
April
Batman debuts [age 26]
Flash debuts [age 24]
May
Superman meets Batman
WONDER WOMAN wins the Tournament and
DEBUTS in the Outside World (Age 22)
Donna Troy is brought to Paradise Island by The Titans of Myth after
they rescue her from a building fire
Aug
Black Canary II (Dinah Laurel Lance) debuts [age 19]
Superman meets Green Lantern and Flash
Hal Jordan meets Oliver Queen[age ~33]
Catwoman debuts [age 19]
Dec
Jim Gordon promoted to Captain
Joker debuts
Year Two
Spring-Summer
Kid Flash debuts [age 10]
Disck Grayson's parents killed [age 10]
Justice League of America forms
Barbara Gordon orphaned [age 13]
Autumn
Two-Face debuts
Year Three
Spring
Robin debuts
Superman, Batman, Wonder Woman form JLA with other Heroes
Green Arrow joins JLA
Speedy debuts
Summer
Flash frees Jay Garrick and Keystone City
JSA emerges from semi-retirement
Autumn
First JLA/JSA team-up
Year Four
Winter
DONNA TROY follows in her Sister's foorsteps and debuts as WONDER GIRL
Teen Titans form
Aquaman marries Mera
Spring
JLA & JSA vs. Wotan; Hawkman joins
Autumn
Batgirl debuts [age 16]
Jim Gordon promoted to GCPD Commissioner
Agamemno attacks Earth
Barry Allen marries Iris West
Year Five
Guy Gardner becomes substitute GL
Red Tornado created
Doom Patrol "dies"
Year Six
JLA moves to satellite HQ
The New Gods come to Earth
GL and GA begin "search for America"
Black Lightning
Year Seven
Teen Titans disband
Batman encounters Rā's al Ghūl
Speedy battles heroin addiction
John Stewart becomes alternate GL
Seven Soldiers of Victory rescued from past eras
Year Eight
Second Titans form
Arthur Curry Jr. killed
Barbara Gordon elected to Congress
Year Nine
Second Titans disband (and finish HS)
Firestorm
Ted Kord becomes Blue Beetle II
Mr. Terrific killed
Dr. Light "mindwiped"
Green Arrow leaves JLA
Batman severs partnership with Robin
New Titans form
Year Ten
Ultra-Humanite/SSSV attack JLA/JSA
GL exiled to space by Guardians
Batman leaves JLA, forms Outsiders
Infinity, Inc. forms
Year Eleven
Jason Todd becomes Robin II
Dick Grayson becomes Nightwing
JLA dissolves, re-forms in Detroit
The Anti-Matter Crisis occurs
Year 11
(Or as DC would have it, Year 7)
Summer
Booster Gold debuts [age 20]
Captain Marvel debuts [age 9]
The JSA is trapped in limbo
Fall
Legends occurs—Darkseid scheme
Captain Atom debuts
New JL(I) and Suicide Squad form
Year 12
Winter
Millennium occurs—Guardians depart
GA [age 43] & BC [age 30] move to Seattle
Spring
Checkmate forms
Summer
The Joker cripples Barbara Gordon
Starman V (Will Payton) debuts
Fall
The Joker kills Jason Todd
Invasion! of the Alien Armada
Year 13
(now extra-compressed)
Winter
Superman exiled in space
JLE forms
Huntress debuts [age 20]
Spring
Barbara Gordon becomes Oracle
Tefé Holland born
Hawkman (Katar Hol) and Hawkwoman (Shayera Thal Hol)
come to Earth
Summer
Clark and Lois get engaged
Luthor fakes his death
Tim Drake debuts [age 13]
Fall
Tim becomes Robin III
"Time and Time Again"
Armageddon 2001/JL: Breakdowns/War of the Gods
Ray II debuts [age 18]
Eclipso attacks
JSA rescued from Limbo
Dec
Superman is killed by Doomsday
Year 14
Winter
"Reign of the Supermen"
Spring
Bane breaks Batman
Superman returns
Summer
"Emerald Twilight"—Hal Jordan goes bad
Kyle Rayner debuts as GL [age 24]
Bruce Wayne returns as Batman
Fall
Zero Hour—Parallax strikes
Jack Knight becomes Starman VII [age 27]
Brief new Titans and JL teams form
Underworld Unleashed—Neron schemes
Year 15
Winter
"Contagion" afflicts Gotham
Green Arrow dies
Connor Hawke becomes GA [age 18?]
Spring
New "big guns" JLA forms
Final Night averted by Parallax
Legionnaires from 30th Century stuck in present
Clark and Lois wed
Summer
Superman Blue (& Red)
Hippolyta becomes Wonder Woman III [age ~3,200]
Fall
Genesis wave impacts Earth
Gotham devastated by earthquake
Young Justice forms
DC One Million—time-trips to 853rd Century
Year 16
(Year 12+ in DC's official timeline;
now extra-compressed)
Winter
Hypertime revealed
Gotham declared "No Man's Land"
Original Titans re-form
Spring-Summer
Batman and allies gradually re-take Gotham
"Chain Lightning"—Flashes vs. Cobalt Blue
Brainiac 13 attacks Metropolis
Gotham reopens
Luthor declares for presidency
Fall
New JSA forms
Wally West marries Linda Park
Day of Judgment—Hal Jordan becomes the Spectre
"Grand Guignol" in Opal City
"Tower of Babel"—Rá's al Ghúl vs. JLA
Lex Luthor elected President
Jim Gordon shot
Year 17
Winter
Lex inaugurated
Spring
Oliver Queen returns as Green Arrow
Oa is rebuilt
Summer
"Our Worlds At War" against Imperiex and Brainiac 13
Fall
The Joker's "Last Laugh"
Year 18
Winter
Bruce Wayne framed for murder
Spring
Kyle Rayner becomes Ion, resurrects Guardians
Summer
Bruce Wayne cleared of murder
Fall
The Titans and Young Justice disband
JLA and JSA confront "Virtue and Vice"
Year 19
(now extra-compressed)
Winter
Batman faces the new villain "Hush"
Flash confronts the new Zoom
Titans/YJ regroup as the Outsiders and Teen Titans
President Luthor is disgraced, forced from office
Spring
Kara Zor-El arrives on Earth [age ~15]
Tim Drake resigns as Robin
Summer
San Diego falls into the ocean
Fall
Stephanie Brown serves briefly as Robin
President Ross resigns from office
"War Games" wrack Gotham; Tim returns
Identity Crisis—tragedy and scandal strike the JLA
Year 20
Winter
Hal Jordan returns to life as Green Lantern
Blue Beetle killed by Max Lord
Spring
Everything goes to hell in a handbasket as Infinite Crisis arrives
Year 20
Spring
Oliver Queen, Connor and Mia retreat to an island
Bruce, Dick and Tim go traveling; Clark and Diana step back from costumed activity
Luthor emerges from hiding; launches "Everyman Project"
The "Freedom of Power" treaty is signed
Summer
Supernova debuts
Ollie returns, announces campaign for mayor of Star City
Booster Gold "dies"
Question and Renee Montoya visit Kahndaq, attend Black Adam's wedding
Fall
President dismantles Checkmate; U.N. takes it over
Lorraine Reilly elected to Senate; "Henry Knight" elected president
Nightwing returns to Gotham
Oliver Queen is elected Mayor of Star City
Year 21
Winter
Luthor disables the "Everyman" powers
Jim Gordon returns as GCPD Commissioner
Spacefaring heroes defeat Lady Styx
Freedom Fighters expose President Knight as a robot
Question dies in Nanda Parbat
Ralph Dibny dies defeating Felix Faust
Oolong Island scientists launch Four Horsemen
Spring
Hal Jordan escapes imprisonment in Chechnya
"World War III": Black Adam attacks the world
Batman returns to Gotham
Superman returns in Metropolis
Diana returns as Wonder Woman
JLA re-forms
Summer
Titans confront Deathstroke
Alan Scott leaves Checkmate
Fall
Superman challenged by Arion
JSA re-forms
Amanda Waller re-creates Suicide Squad
Talia introduces Batman to his son Damian
Bart Allen dies, Wally West returns
Amazons attack Washington D.C.
Green Arrow marries Black Canary
Sinestro Corps attacks Oa and Earth
Rā's al Ghūl is resurrected
Year 22
Winter
General Zod attacks Earth
Most of Earth's villains are exiled for weeks on a prison planet
The Source destroys the New Gods, Apokolips and New Genesis
Orion kills Darkseid
Spring
Kandor is restored; becomes "New Krypton"
"Batman R.I.P."—Batman faces the Black Glove
Final Crisis—J'onn J'onzz is killed, Batman disappears, Barry Allen returns
Summer
Hal Jordan forms a splinter JLA
Fall
Dick Grayson becomes Batman
21st Century
2010
(Future of Lord Chaos—averted)
2018
Future of the Dark Titans (not yet averted?)
2020s
Era of Kingdom Come
2030
(Future of Monarch and Waverider—averted)
2045
World War III
22nd Century
Dawn of Space Exploration
Kamandi
Tommy Tomorrow & the Planeteers
Space Rangers
Star Rovers
23rd Century
Era of the Great Wars
WW IV? WW V?
25th Century
The Knights of the Galaxy
First attack of the evil sun Solaris
2447
Knodar, the "Last Criminal"
2450s
Second Khund Invasion
2460s
Home era of Reverse-Flash
Home era of Booster Gold
27th Century
2645
Origin of time-traveling Flash John Fox
28th Century
World War VI
29th Century
Mordru's first resurgence
30th Century
Founding of the United Planets
2957
Iris Allen's home era, Barry Allen's retirement
2973
(Founding of post-Crisis Legion[L1])
2982
Birth year of Bart Allen
c. 2992
Founding of post-IC "unboot" Legion [L4]
2994
(Founding of post-Zero Hour "reboot" Legion [L2])
31st Century
3003
(Founding of "threeboot" Legion [L3])
38th Century
3786
Home era of the Lord of Time
58th Century
5700-5711
"Pol Manning" is hero of the Solar Council
64th Century
Home era of Abra Kadabra
120th Century
Xotar, the Weapons Master
821st Century
Possible home era of Brainiac 13
853rd Century
85,271
(Events of DC One Million)
Another Great Heroic Era, including the Justice Legion A
Solar system fully terraformed, part of Galactic Macronet, governed by United Galaxies
Final destruction of Vandal Savage and of Solaris
2.8 Billion CE
Earth is long dead
>100 Billion CE
The End of Time
===============================================================================================================================================
OTHER VERSIONS OF WONDER WOMAN CONTINUITY
THE GOLDEN AGE WONDER WOMAN (PRE-CRISIS ON INFINITE EARTHS VERSION OF EARTH-2)
THE BRONZE AGE WONDER WOMAN (PRE-CRISIS ON INFINITE EARTHS VERSION OF EARTH-1)
THE POST-CRISIS ON INFINITE EARTHS WONDER WOMAN
================================================================================================================================================
Credits:
Wonder Woman created by William Moulton Matsron and is TM & Copyright DC COMICS, INC. All Artwork is Copyright by their respective owners.
Wonder Woman, Wonder Girl, Donna Troy and all related characters and elements are tm & (c)Copyright DC Comics, Inc.
All information and images are used for informational purposes only and no copyright infringement is intended.
Wonder Woman and all related characters and elements are TM & Copyright (c) DC COMICS, INC. All other contents retain copyrights of their respective owners. Articles and images found on this fan site are exclusive properties of their respective owners and authors. Wonderverse does not claim ownership of these articles and images unless otherwise specified. This is just a fan/ tribute site which is in no way making any money or distributing any material to infringe with the copyright holders. This is a Fan/ Tribute site intended to present the news for enjoyment of Wonder Woman Fans. If you have any questions, e-mail us at: raffya@yahoo.com
WONDER WOMAN ANIMATED MOVIE GALLERY